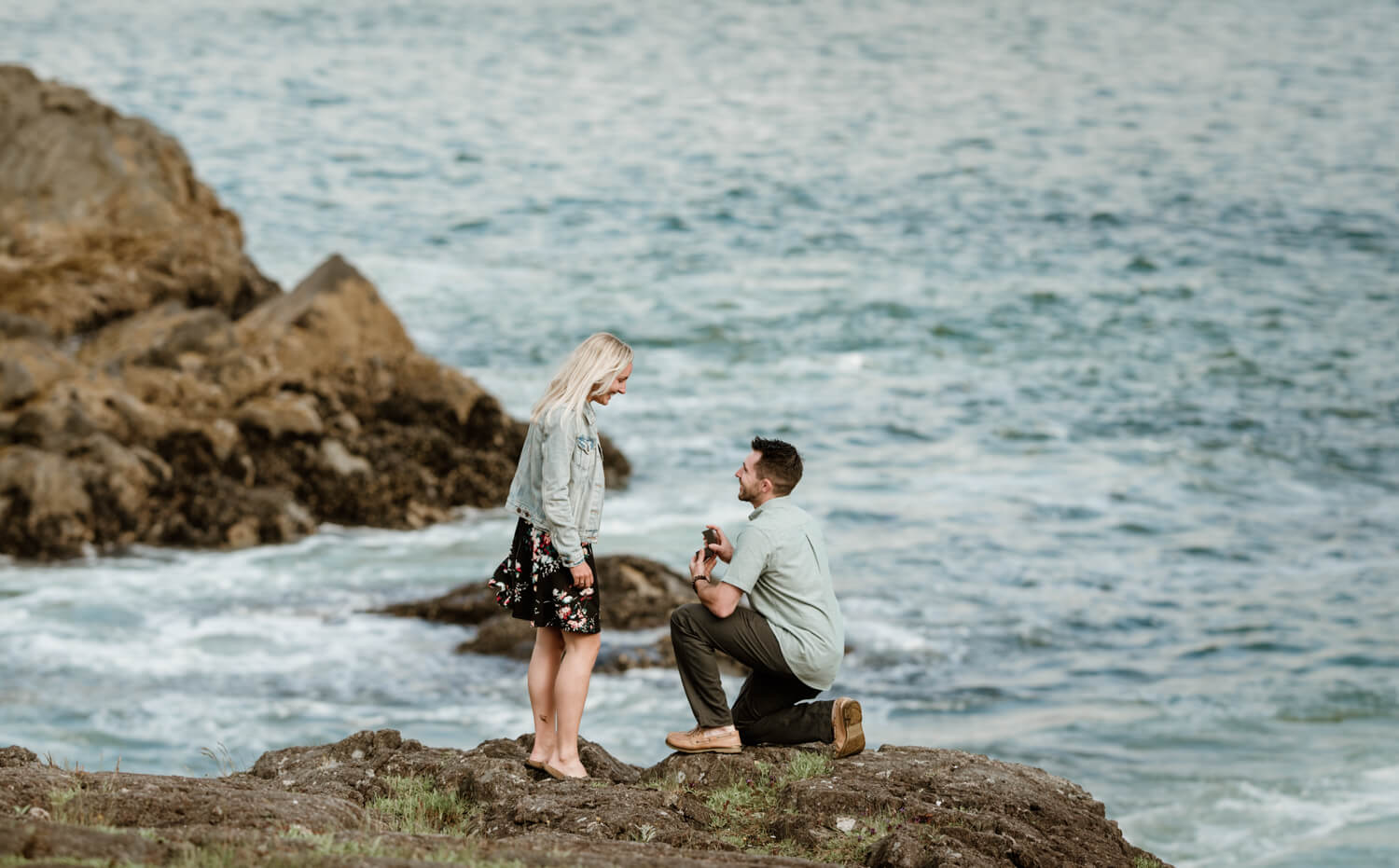 Brandon and Jacqueline's Tofino Proposal Story
I get so excited every time I get an inquiry for a Tofino proposal. First of all, it's so much fun shooting in Tofino and I love getting to help plan proposals. It's truly an honour to be a part of such a huge moment! But, most importantly, I love knowing that someone gets to experience one of the most memorable moments in life in one of the world's most beautiful places. Tofino is magical year-round and is such a romantic proposal location!
Brandon was my neighbour growing up in Ontario, so it was extra exciting to photograph his proposal to his girlfriend Jacqueline while they were visiting Tofino. First, we chose a location, a beautiful point off of Cox Bay. Next, we had to plan exactly how the proposal would go down. They were staying at nearby Long Beach Lodge, so Brandon planned to "casually" suggest a walk down the beach before dinner. Meanwhile, I was waiting with my camera, pretending to be a tourist snapping photos of the surfers. Finally, after weeks of planning, with the waves crashing in the background, Brandon popped the question and Jacqueline said YES! 
Afterwards, we took some engagement photos around Cox Bay and Long Beach Lodge. Brandon and Jacqueline were understandably so filled with joy and I love that you can feel it in the photos. Thank you to Brandon for trusting me with capturing this moment and  congratulations to the happy couple!
Are you planning a Tofino proposal?
I would be honoured to capture this special moment for you! In 2022, my proposal packages for Tofino and Ucluelet start at $650+GST. This includes the proposal itself and a mini engagement session following the big moment. Also, I'm happy to help you plan out the details and location; I have a running list of favourite (but quiet) spots that would be perfect for a proposal in Tofino!
Check out this Tofino proposal session for more inspiration.
Send me a message using the contact form below for more info and to start planning.
Thanks for checking out this blog post! If you're interested in booking me for your wedding, elopement, or a session, send me a message here. I will most likely do a happy dance when I receive your inquiry!