A rainy Westwood Lake engagement session
Today, I'm sharing Katie and CJ's fall engagement session at Westwood Lake in Nanaimo. I'm so glad we didn't end up cancelling because we had so much fun running around in the rain! Not to mention, picking a rainy day meant that Westwood Lake was super quiet. We pretty much had the place to ourselves! 
Westwood Lake is a special place for Katie and CJ, so it was an easy choice when we were deciding on a location. Personally, I love shooting here. It's pretty central in Nanaimo and as you'll see in these photos, the scenery is incredible. Also, there's so much variety for backdrop options here: forest, tall grass, and of course the misty lake views.
By the end of their session, we were completely soaked but my cheeks hurt from laughing. I'm looking forward to Katie and CJ's wedding day later this year. Even if it rains, I know it's going to be a blast with these two!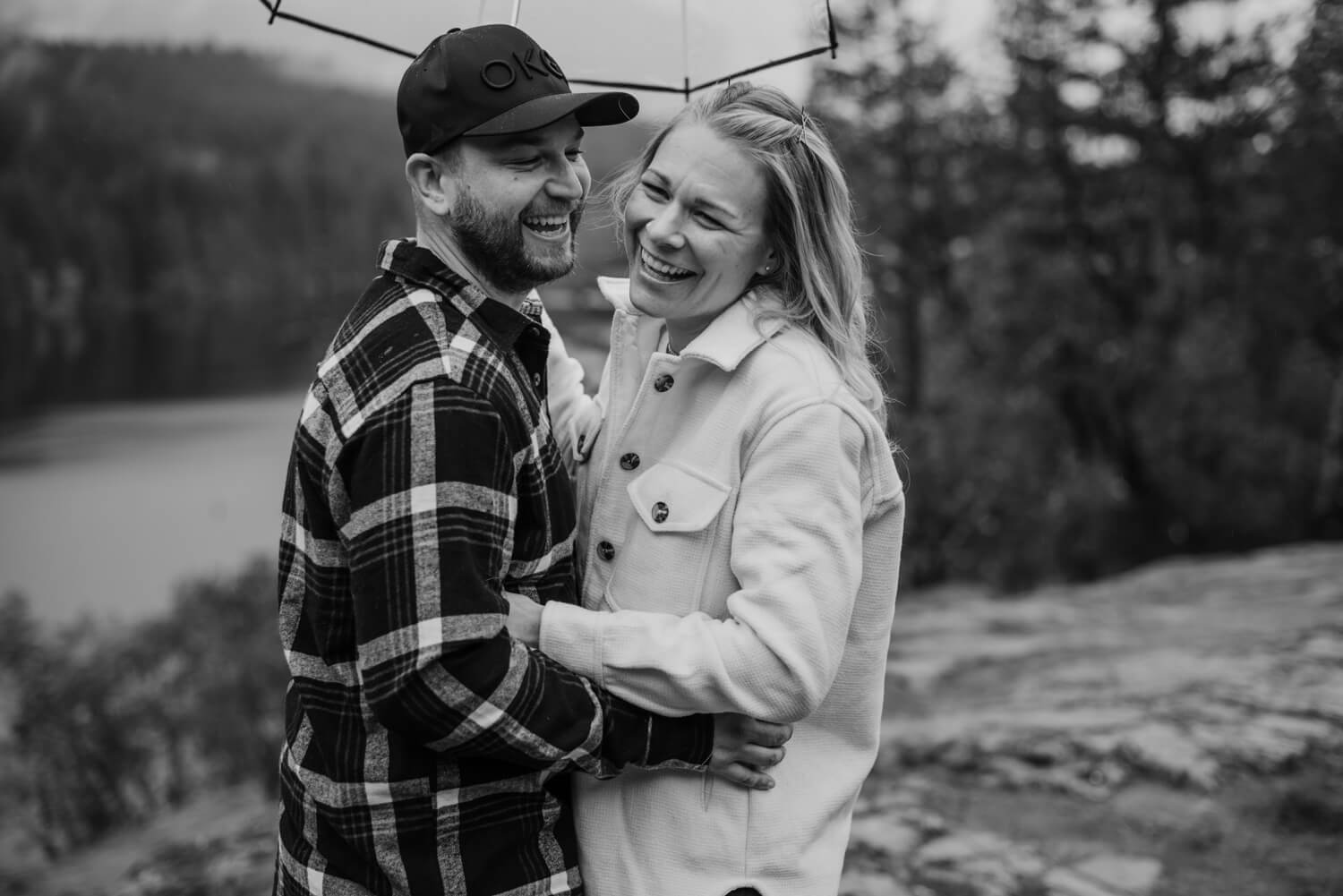 Rescheduling vs sticking out the rain
I get asked all the time if we should reschedule sessions due to rain. I always give the option of rescheduling, because I recognize that rainy photos might not be everyone's cup of tea. However, if you're up for embracing it and don't mind dancing in the rain, let's do it! Generally, if it's just raining, it's not going to cause any issues. However, if it's also lightning/thundering out, or if it's super windy, in that case we will need to reschedule or move to an indoor location. Also, if you have kids and have booked a family session, it might be a little miserable in the rain.
On wedding days, I'm ready to go rain or shine. I recommend having a clear umbrella handy and making the best of it! Check out this blog post to show you that a rainy forecast doesn't dampen the good times.